Add This XCA Spoiler To Your Existing Screen To Adjust The Airflow To Suit You

Where no complete MRA adjustable screen has been produced, this add-on X-Creen (which simply attaches to your bike's existing original or aftermarket screen) is the perfect alternative solution for the taller, long-distance rider, who wishes to deflect airflow on their bike for the most comfortable ride.
The X-Creen air deflector hinge system is produced from a virtually unbreakable Carbon-Fibre Reinforced Polyamide for maximum longevity and durability. It is supplied with extension arms and Double Hinges to provide an increased range of movement and adjustment - giving a total up/down vertical range of upto + or - 110mm, while still providing the same adjustment of the spoiler angle, regardless of the spoiler's height.
MRA X-Creen XCA Clip on Brackets ( No drilling required ) are now included in the kit so you can drill or clamp, the choice is yours.
Dimensions
Width of spoiler/aerofoil: 360 mm (14.2 inches)

Overall height of spoiler/aerofoil: 155 mm (6.1 inches)

Height in centre of spoiler/aerofoil: 128 mm (5.0 inches)

Lateral mounting width between hinge bases: 260 mm (10.25 inches) (+/- 10 mm, dependent upon screen curvature)
X-Creen XCA add-on is designed to be mounted on motorcycles which have a sufficiently rigid and sturdy standard screen - such as Honda VFR1200, BMW R1200RT & R1100/1150RT to support it effectively. It will generate load around its hinge mounting points and, if affixed to a screen of insufficient strength, cracks - or in extreme circumstances, breakage - could result. Please note MRA/HPS can accept no responsibility or liability for any damage caused to a customer's screen as a result of fitting an X-Creen, so please ensure your bike's screen has the required rigidity and strength prior to purchase.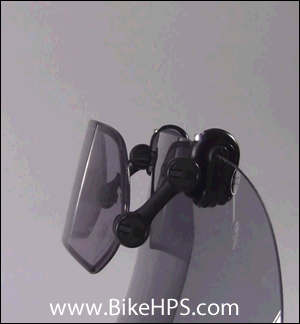 Customer feedback suggests it works really welll on the R1200GSA

Installation simply requires four small holes drilling for permanent attachment to your bike's current screen, or it can be attached and detached – without drilling – with optional XCC Tension Clamp clip-on brackets (not supplied - see option tick box below).

X-creen is a thoroughly tested and highly developed German made product, but, while it will enable significant alteration to airflow, no guarantees can be provided for its performance in any specific installation due to variations in bikes' screen heights, rider's height, helmet and clothing worn.
If you can come to the shop I will fit me clamp on spoiler to your bike and you can try it before you buy it, about 90% find the spoiler makes a big difference and then buy it but it does not work for every bike/rider combination so if it does not work you have not got to spend £90.
Reviews
No reviews were found.