AltRider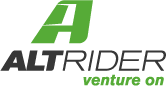 About AltRider
AltRider is a Seattle-based company providing accessories and gear for Adventure Touring motorcycles. We sell AltRider engineered products for the Adventure bikes from BMW's GS line, Suzuki, Kawasaki, the KTM Adventure series, the Ducati Multistrada 1200, the Yamaha Super Tenere XT1200Z, the Triumph Tiger 800XC and Explorer 1200, and the Honda V4 Crosstourer. We also offer proven products from other manufacturers.
Like you, the members of the AltRider team ride and expect performance and value from their products. Great care goes into every step of the AltRider creation process, from initial concept to presenting you with a finished piece. You can count on us to give you adventure touring products that provide your bike with superior fit and protection.
AltRider is committed to bringing you the best adventure touring products available today. If we wouldn't bolt it on our bikes, we won't sell it. Here's what you can expect from every AltRider product:
Design
AltRider products not only protect your bike, but also do so much more. Each piece is designed to maximize ease of installation and product integration.
What does that mean? It means that AltRider products can be installed easily, and come with all the necessary hardware – and even Loctite – you'll need for installation. Also, each product comes with thorough instructions, which make installation an easier process.
Each AltRider product takes advantage of the strongest points of the frame while shielding the weakest, and every AltRider product works seamlessly with any other you use.
Craftsmanship
Because our design team is made up of fellow motorcyclists, they know what a bike and rider need. The team develops the AltRider products through meticulous research and rigorous testing of prototypes. They look at the forums to determine what riders are asking for, look at other products, and then decide the most important features necessary. Each AltRider product is made to exacting standards with a clean, high-end finish that will complement your machine.
Made in America
AltRider products offer function, performance and value. From our crash bars to our skid plates, we go the extra mile so your ride doesn't get cut short.
From the earliest stages of design to packing up the finished piece for shipping, AltRider products are made entirely in the United States. We are proud to stay local with our manufacturing. We believe a high level of quality is possible thanks to strong relationships with all our suppliers.